Village of Wonewoc Tourism & Recreation
We are located 30 minutes west of Wisconsin Dells on State Highway 33
4 Seasons Recreation
"400" State Bike Trail
Biking
Snowmobiling
Cross Country Skiing
Hiking
Horse back riding
Baraboo River
Canoeing
Kayaking
Driftless Area of Wisconsin
Indian Lore - 3 Castle Bluffs
Fall colors with abundant wildlife around Wonewoc provide a unique place for recreational enthusiasts for every season. Wonewoc is the Midpoint to the "400" Trail, enjoyed by bikers, hikers, and horse riders, and during the winter months, snowmobilers and cross country skiers. Enjoy a canoe or kayak trip on the Baraboo River from Union Center to Wonewoc. Also available are bike repairs/rentals, as well as daily canoe rentals.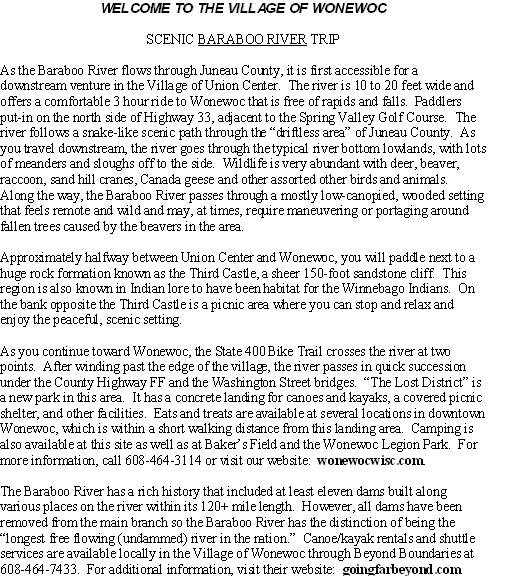 Your trip begins in Union Center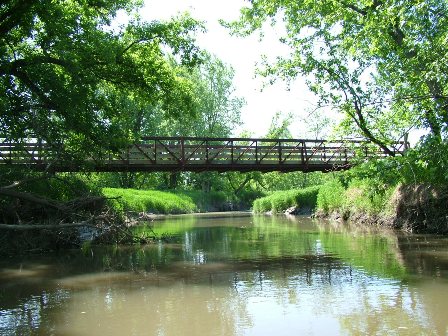 Map of Baraboo River Trip
3 Hours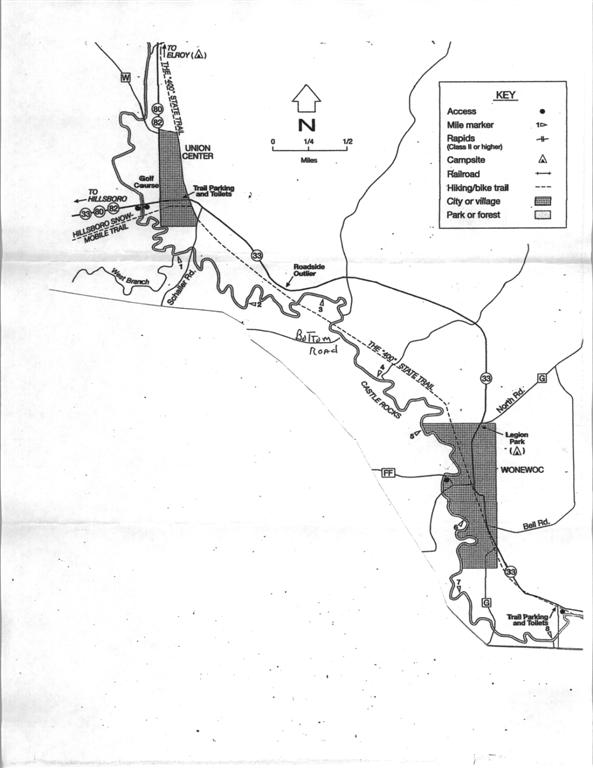 Ends in the Village of Wonewoc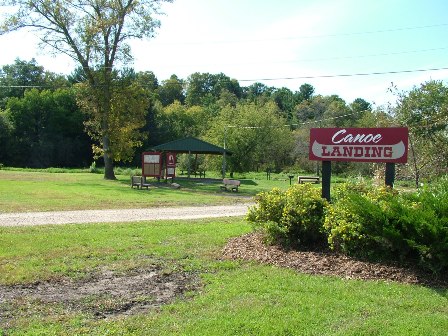 Public Parks, Pool & Campground
Two parks are located within the village. Bakers Field, which is located directly off The "400" Trail, has a covered shelter, restrooms, lighted tennis courts and ball field. The American Legion park offers a large, fenced, in-ground swimming pool, shower facilities, and is located within an aesthetically pleasing atmosphere of tall pines, oak and maple trees and many species of wild flowers. Wonewoc has the only public campgrounds on the trail between Elroy and Reedsburg, which are located at Bakers Field and the American Legion Park.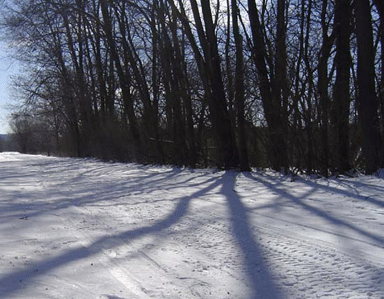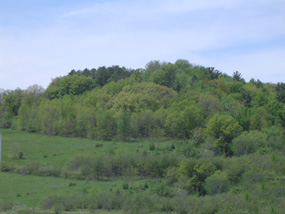 Bluffs and Site Seeing
The Village of Wonewoc is located in an unglaciated area commonly referred to as the Driftless Area. It is enhanced by many rocky bluffs and pine trees and beautiful river scenery. The countryside is truly unique and spectacular, whether it is Spring, Summer, Winter or Fall. Be sure to bring your camera for some great pictures.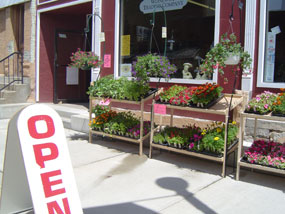 Shops & Restaurants
Directly accessible to the '400 Trail' is a  medical clinic, eating establishments and the Wonewoc business district to meet the many needs of the trail users, visitors and locals. You will find that the shops and restaurants in Wonewoc to give you the small town hospitality that is sometimes lost in bigger cities.
Find out More:
Local Businesses
www.GoingFarBeyond.com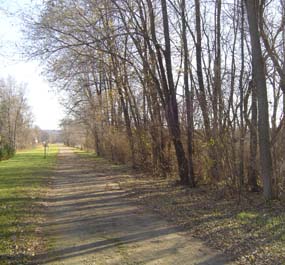 Biking on the "400" Trail
The midpoint to the "400" Trail is found in the Village of Wonewoc. Packed limestone screenings and bridges with planked floors provide a smooth bike riding surface.  Bike repair and rentals are available within the village. Two parks are accessible from the trail in the village. Baker Field, which is located directly off the "400" Trail, has a covered shelter, restrooms, lighted tennis courts and ball field. The American Legion park offers a large, fenced, in-ground swimming pool, shower facilities, and is located within an aesthetically pleasing atmosphere of tall pines, oak and maple trees and many species of wild flowers. The American Legion Park is the only public campground on the trail between Elroy and Reedsburg. A unique feature of the "400" Trail is a 7-mile horse trail which parallels the trail between Wonewoc and LaValle. The Baraboo River parallels the entire length of the trail.  Directly accessible to the trail is a  medical clinic, five eating establishments and the Wonewoc business district to meet the many needs of the trail users. Recreational opportunities don't stop when the snow flies. Snowmobiles use the trail during the winter months
Find out more:
www.GoingFarBeyond.com
The "400" Trail
Sauk County Snowmobile Club
WI DOT Bike Trail Map for Juneau County
Horseback Riding Information